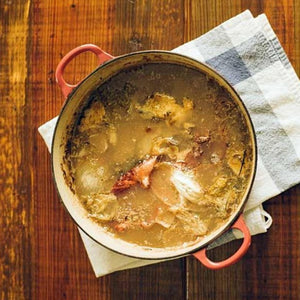 Our family always had a broth on the stove. Used as a base for risottos, soups and as a broth for beef ravioli.
Ingredients: beef bones, red wine, rosemary, thyme, carrots, celery, leeks, bay leaf, salt, pepper, onion
Frozen product: Freshly prepared frozen product. Keep frozen on day of purchase. Keep frozen for up to 3 months. Do not refreeze when defrosted. Defrost completely before use. Warm up slowly until simmering. Cook ravioli in the simmering broth or your favourite soup ingredients and blend for a smooth soup.
100% preservative-free.