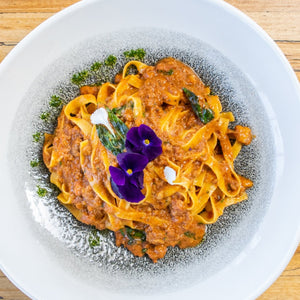 This is our Nonna's secret Ragu. The tastiest Bolognaise in town.
Ingredients: Beef mince, Italian pork sausage, red wine, milk, salt, pepper, bay leaf, Extra Virgin olive oil, carrot, celery, onion, garlic, oregano, Mutti whole peeled tomatoes.
Frozen product: Freshly prepared frozen product. Keep frozen on day of purchase. Keep frozen for up to 3 months. Do not refreeze when defrosted. Defrost completely before use. Free of preservatives.
Warm up in a hot saucepan with Extra Virgin olive oil, finish with fresh basil and a dash of cream.