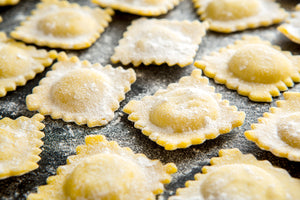 This has been a long standing favourite ravioli at all our stores. Best served in a creamy, Parmesan cheese sauce with a dash of truffle oil.
Ingredients: Porcini mushrooms, Extra Virgin olive oil, butter, eggs, ricotta, 00 flour, salt, pepper, Ricotta cheese, parsley, garlic, onion, 18 month Grana Padano Parmesan cheese.
Frozen product: Freshly prepared frozen product. Keep frozen on day of purchase. Keep frozen for up to 3 months. Cook straight from frozen.  Bring salted water to the boil and cook ravioli in small batches. When they rise to the surface, they are ready. Strain and serve with your favourite sauce.
100% preservative-free.