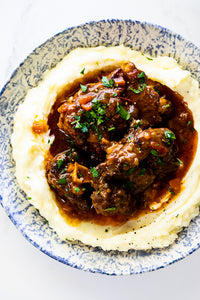 Slow braised oxtail (7 hours) in a deep and delicious red wine jus with mushrooms, carrots and cannelini beans. This oxtail is amazing with mashed potato or rice. Use the leftover sauce with pasta as a second meal.
Ingredients: oxtail, flour, dijon mustard, wholegrain mustard, cannelini beans, carrots, mushrooms, celery, garlic, onion, butter, Extra Virgin olive oil, beef stock, red wine, rosemary, thyme, parsley.
Frozen product: Freshly prepared frozen product. Keep frozen on day of purchase. Keep frozen for up to 3 months. Do not refreeze when defrosted. Defrost completely before use . Warm up slowly in a pot. 
100% preservative free.