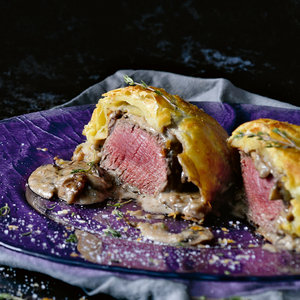 Our best seller and just in time for Father's Day. Served cooked with beef jus and mashed potato or frozen as a single item.
This is like the best beef pie. 200gr Beef fillet wrapped with pancetta ham and a deep and moreish mushroom sauce. All this deliciousness is then wrapped with puff pastry and individually baked on order.
You can also order this item frozen and cook it at home. Allow to defrost completely and come to room temperature. Heat the oven to 200 degrees. Wash the pastry with a little bit of beaten egg and bake in the oven for 35-45 minutes for medium rare to medium.
Ingredients: Beef fillet, pancetta (pork), mushrooms, red wine, cream, puff pastry, flour, beef stock.
100% preservative free.