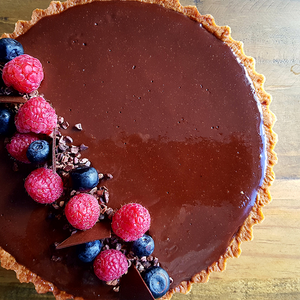 Silky and smooth pure chocolate tart with a pistachio nut crust. Perfect for dessert and entertaining.
Serves 16 people. Cakes must be ordered 24 hours in advance.
Please note to cut this cake, pour boiled kettle water in a cup. Dip your knife in the hot water and wipe it clean with paper towel. While the knife is still hot, slice your cake. Keep dipping and wiping your knife after each slice is cut.