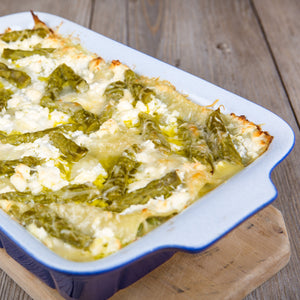 A vegetarian delight. Fresh and zesty asparagus with Brie cheese and bechamel sauce.
Ingredients: eggs, 00 flour, asparagus, garlic, onion, lemon zest, bechamel sauce, salt, pepper, parsley, Brie cheese, 18 month Grana Padano Parmesan cheese, butter, Extra Virgin olive oil
Frozen product: Freshly prepared frozen product. Keep frozen on day of purchase. Keep frozen for up to 3 months. Do not refreeze when defrosted. Defrost completely before use . Set your oven to 180 degrees and bake for 1 hour until bubbling and golden.
100% preservative free.