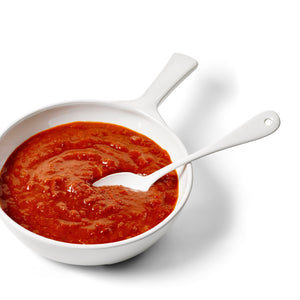 Our amazing tomato based sauce which you can add to any pasta or use it as a sauce for chicken breasts. We use only the ripest and juiciest imported Italian Mutti tomatoes. 
Ingredients: whole peeled tomatoes, celery, carrot, garlic, onion, bayleaf, Basil, Extra virgin olive oil, salt and pepper.
Frozen product: Freshly prepared frozen product. Keep frozen on day of purchase. Keep frozen for up to 3 months. Do not refreeze when defrosted. Defrost completely before use. 100% preservative free.