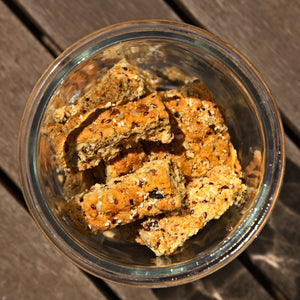 We serve these bran rusks with our coffees at Cafe del Sol Classico, our Olivedale branch. They are the best rusks ever. 
Ingredients: brown sugar, self raising flour, baking powder, salt, buttermilk, bran flakes, corn flakes, cranberries, raisins, pumpkin seeds, eggs, butter.
Dried product: Keep an airtight container until they are all eaten.